Now that you have narrowed down the type of support you need, let's talk about cost. I offer flexible pricing to fit your budget, project, and goals.
Coaching prices are based per event or per hour. The average cost is $40 per hour.
Writing prices are based per 100 words. The average cost is $0.06 per word.
Editing prices are based per tier of editing required, per 100 words. There is a minimum fee of $40.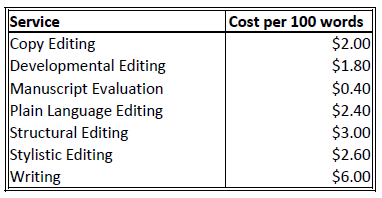 Illustrations prices are based on complexity, line art versus full colour, and distribution. The following chart provides base pricing for character illustrations. A full quote will be based on your brief.

For more elaborate projects like book covers or maps, quotes will be provided based on the assessment. Please note that extended distribution (such as for merchandising), additional characters, or higher levels of complexity (including elaborate backgrounds or machinery) will incur complexity overages.

All prices are displayed in USD. You may pay by cash, eTransfer or Paypal. Credit card or debit are accepted for in-person events only.
After the assessment, I require a 50% deposit before work commences, with the balance owing on completion of the work. Depending on the scope of your project, payment plans may be available.
I will invoice you upon completion of the work. Should you wish to cancel the work after initial files have been provided, no refunds are available on the deposit. Once work has been completed, no refunds are available on the balance.
Ready for your free assessment? Contact me to discuss your needs, budget, and timeline. Let's get creative!