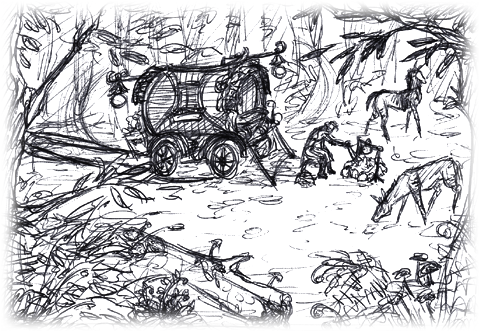 "We are thieves, this night. We give our lives
to steal back our country for our children.
We die for the dream of a free Tirivahn!"

~Emperor Falian, Leader of the Tirivahni during the Resurrection of the White Tiger
The nation of Tirivahni is the smallest in the world, but the most magically potent, a sort of Bermuda Triangle of cosmic energy and Realm Gates. It is widely considered the most beautiful country, which is partly due to the rigorous efforts to conserve the natural resources and wilderness of this coastal land. Rich with rivers, lakes, forests and meadows, Tiriavhn boasts a diverse range of wildlife, including many species that are unique to Tiriavhn. The islands in the Fasadan Straight have been fought over and have ranged from concentration camps and prisons to resorts and monasteries. They are currently owned by the Tiriavhni Crown.

The people of Tirivahn are few but mighty, possessed of great magical prowess, diversity of skill and great empathy with the balance and currents of the world. Their Racial Ability enables them to take one of 33 animal forms which may account for their sensitivity and regard for nature. Androgynous and extremely devout, the Tirivahni have a long history of oppression, enslavement, rebellion and environmental stewardship that colours civil affairs to this day.

Click below to visit the wiki for either race or country.