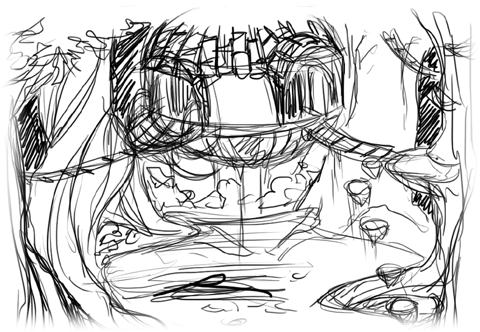 "If your Tribal Mask cannot be easily seen,
you are forsaken to this forest and its people.
To not belong is certain death."

~Ngmastoxl, Tribe Leader of the Ngmu Ptrarl
The northern isle of Talmont is a unique biome of deciduous jungle, long cut off from the rest of the world while it was developing. It has many unique and bizarre species, including its sentient denizens. The thick forests are filled with dangerous flora, fauna and traps to the point that despite its rich resources and unique properties, it rarely gets outside visitors for how lethal it can be.

The Talmontese are an anthropomorphic species of tree that have long baffled biologists and botanists throughout the world. They make their homes up in the trees to protect themselves from their numerous natural predators and to prevent themselves from rooting during the day as they sleep. Their females impregnate their males, they grow stiffer and more rigid as they age, and in 'death' they root and become part of the forest, joining with their massive ancestral tree formations.

Click below to visit the wiki for either race or country.