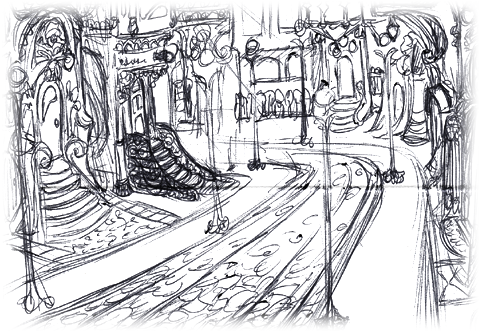 "One need never ask if the Mayadrihn are watching your every move -
after all, they penned the very script in which your actions were written!"

~Tanjer Niamey, Mayadrihn Secret Service Operative
The nation of Suoro is one of the most powerful and influential culturally and politically. They have pioneered international communications, peoples' rights and have always been the leader in arts and entertainment. Their complex system of four tiers of interconnected government (Monarchy, Democracy, Mafia, Secret Service) make them unique in their management of crime, punishment, public works and finances. Despite their general presentation of a welcoming, cooperative nation, Suoro has led a colourful history, at times playing peacekeeper, running magical weapons, slave trafficking, war mongering and duplicitious manipulation of information.

The Suoro people are equally complex, masters of language, dance, seduction and subterfuge. Known as the Silvertongues, the Suoro are often Machiavellian, toying with world politics and other races as a matter of course. Unofficially, they view themselves as the stewards of the world, despite possessing no Racial Ability of their own. They are perfectly happy to allow others to do what they will, so long as they first comply with Suoro ideals of hygeine, licentious sexuality and religious freedoms.

Click below to visit the wiki for either race or country.