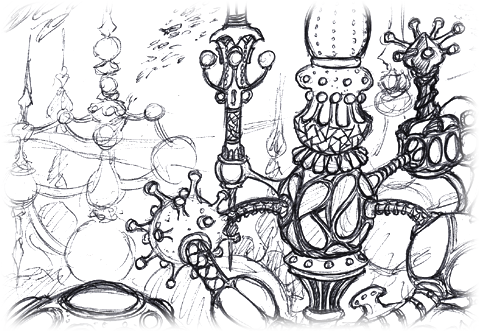 "What can it teach us? What does it know?
How does it see with only two eyes?
The answers are only found by exhausting every test."

~Sanno Mor, Ere Breghin Explorer and Alchemist
The continent of Ere Beghin is often included as a portion of the Eastern Continent, though its size, unique infrastructure and half sub-aquan cities make it a distinct country. With some of the largest lakes worldwide and the largest man-made aquifers, it is to many one of the most beautiful civilizations. Their fantastic architecture utilizes mosaics, blown glass, contour cement pouring, spheres and spires that protrude as high into the sky as they delve into the water.

The amphibious Ere Breghin people are one of the most potent magical races in the world, though their sharply different morality and social structure has long divided them from the other world nations. For the Ere Breghin, discovering and experimentation are paramount, and they are fearless in exploiting themselves, other citizens and foreign slaves to achieve their ends. They can be difficult, cruel, resilient, and unsettling, but have also made important innovations in medicine, Realm Travel, alchemy, runic arts and biology.

Click below to visit the wiki for either race or country.